Everyone knows that equity markets are quite volatile in nature. There are wide swings in the stock prices or the index values over a period of time.
From my previous post you should've known that I invested in various mutual funds when the market was peaking out in the end of 2007. After January 2008, the markets crashed and I didn't invest even a single rupee.
Instead if I had put in all my money in October 2008, I would be sitting on a nice profit. Unfortunately, hindsight is always 20/20. No one could've known that the market was going to crash in January and it reached the bottom in October. Contrary to what anyone may say, no one can time the market.
What else can you do instead of trying to time the markets? Everyone wants to buy at the lows and sell at the highs, right?
Rupee Cost Averaging
In simple terms, you invest a fixed amount and buy stocks or a mutual fund for that amount every month. The number of stocks or the units of the fund will vary every month due to the volatility in the market. But over the longer time period, things will average out and you will end up with higher profits than investing in lump sum. This is called as Systematic Investment Plan or SIP for short.
Lets see an illustration with some sample numbers. You are willing to invest Rs. 10000 per month in a mutual fund scheme (for a year). The NAV of the mutual fund will vary over the period of time. Lets see how many units of the fund you get every month.
| Month | Investment | NAV | Units Allocated |
| --- | --- | --- | --- |
| January | 10000 | 10.2 | 980.39 |
| February | 10000 | 12.4 | 806.45 |
| March | 10000 | 12.2 | 819.67 |
| April | 10000 | 11.9 | 840.33 |
| May | 10000 | 11.6 | 862.06 |
| June | 10000 | 10.5 | 952.38 |
| July | 10000 | 11.3 | 884.95 |
| August | 10000 | 10.9 | 917.43 |
| September | 10000 | 11.5 | 869.56 |
| October | 10000 | 11.1 | 900.90 |
| November | 10000 | 12.0 | 833.33 |
| December | 10000 | 13.2 | 757.57 |
| Total | 120000 | | 10425.02 |
By investing a small amount every month, you would've around 10425 units of the fund invested at an average rate of NAV of 11.57.
Lets assume you instead put in the entire Rs.1,20,000 at the average NAV 11.57, your account would have only 10371.65 units. You got 53.36 units for free by spreading out your investment. This is free money with no work done on your part. Who doesn't want this? This will be even more when invested in the longer time frame.
This number would've been even higher if it was a bear market and every month you keep getting more units than the previous month. Of course, this means in a bull market you lose out on the opportunity of investing in bulk at the beginning. But no one knows if we are currently in a bull market or a bear market, as its all in retrospective.
Here is a nice graph of a real world fund which shows how SIP gives you a better return. Investing Rs.10000 every month for a year from Jan 2013 to Jan 2014 (13 months), we have made a decent profit. Part of the profit is due to the fund's performance and NAV increase and part of the profit is also from the SIP.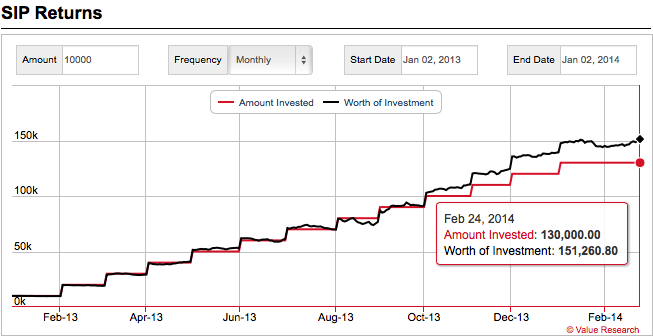 SIP works out as a nice hedge against wide fluctuations in the market and also makes sure you keep investing in the market whatever happens – as in equity only long term counts.
So, if you are salaried and has even a little bit of surplus cash, go start an SIP on a good mutual fund and invest every month. It doesn't matter what happens to the market every day, you will be profitable in the longer term. Even if you aren't salaried, invest regularly instead of trying to time the markets.